Technical Support
.gr can offer you complete LinkShopΤο
AFTER SALES SUPPORT SERVICES

See how you can be served by our technical department.

.gr! LinkShopBe informed for the complete technical solutions by
ΤECHNICAL SUPPORTafter sales support.

Information before purchasing any products

Installation of products in your place

Maintenance and repairing of any

equipments

within our products range

Maintenance contracts for companies

In case that you receive a product which is not working
RETURNING FAULTY PRODUCTScorrect, contact our technical support for a potential restoration of the problem, in case this not possible we will provide you with the necessary RMA form number, in order to return this product for check and repair.
PROCEDURE PUBLISHING RMA FORM
place located right from the place OrdersAfter you connect with our site using your Username & Password, you must go to There you will find the product to return through an order where product belongs. Under the presentation of your order you will see the choice on the top and right named Registration of the return, you will press if you wish Repair or Credit of the store and choose the products that you want to return and reason for it. At the end in the comments, place description of the problem.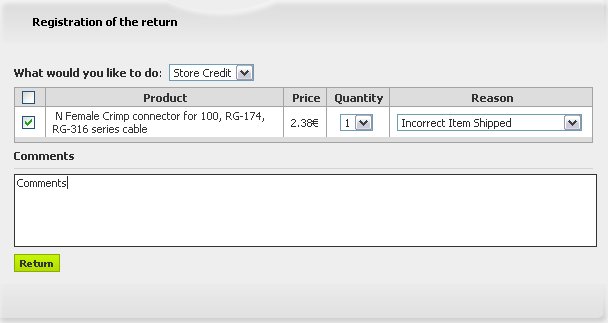 After you complete the form above, you can choose Return.

It will be show as the form below.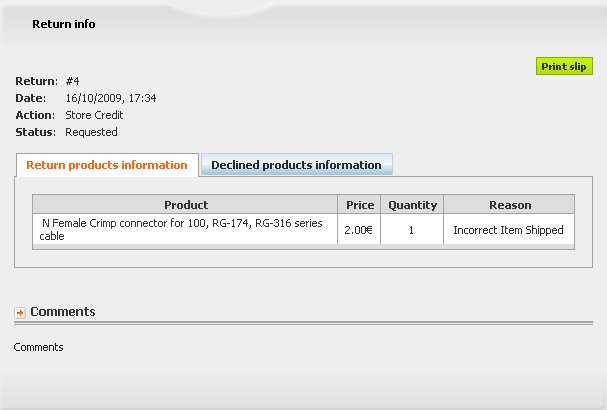 As soon as we inform you via e-mail for the acceptance of your product return , press Print slip in order to print the above form which must accompanied the returned product.

Also:of
my account.
Copy of the sales receipt or the invoice

and the printed RMA form
When you choose Shop Credit we will provide you a code with which you can buy any products of our shop and the credited amount in your account.
LinkShop.gr will not accept any return without RMA form.